The Best Things to Do in Sayulita Mexico
Sayulita Mexico is one of the last few hidden gems in Mexico that hasn't exploded with tourists in the last 3-10 years. It's one of those places that those who discover it come back to again and again and again. One where you're tempted to keep it a secret! Many visitors have coined the spot "Stayulita" for its tendency to cause canceled fights and extended stays. And if you're reading this article that means you're either headed there, or at least thinking about it! Whether you're a frequent visitor or an exploring first-timer, see below for some of the best things to do in Sayulita over a long weekend or however long you'll be in town. But first, some basics.
A tour we think you'll love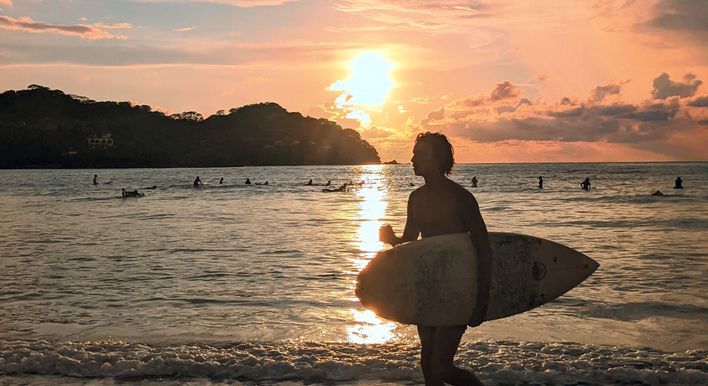 Punta Mita Surfing Camp
From $1,500
View tour
Transportation from Puerto Vallarta Airport
The actual distance from the Puerto Vallarta Airport is less than 38km(less than 24 miles!) but depending which mode of transportation, the trip from Puerto Vallarta to Sayulita could take you up to an hour and a half.
You have several options for transport into Sayulita. Although both Puerto Vallarta and Sayulita are on Mexico's West Coast, Sayulita is farther north. The cheapest option to get into town is the bus! There is a bus directly across the street from the airport which drives straight into Sayulita. This is definitely the cheapest option, though you'll have to cross the street, wait for the bus, and of course share the bus. There is of course a private taxi driver, but that will cost you a bit more. If you know people in Sayulita already, odds are they have the number of a drive who can do it for a reasonable rate!
Now that we've covered the basics, let's get into the details of the best things to do in Sayulita.
1. Surfing
We'd be hypocritical if we didn't call out surfing as one of the best things to do in Sayulita, but we're not unique in this opinion. Sayulita, and the surrounding areas in San Pancho, Punta de Mita(or Punta Mita), and so many others have become hotspots for surfers around the world. Sayulita Mexico combines the charm of a small and(relatively) untouristy city, with the sunsets over the pacific ocean and the waves of the Riviera Nayarit to make an all-star small town.
From the consistent, though sometimes crowded waves on the main beach, to many a secret beach, there are local spots galore. And if you somehow have gotten bored of Sayulita beach and the nearby hidden beach, then one of the many surf shops that do surf lessons in this little beach town can take you on a day trip to surf in stunning beaches nearby.
From beginner surfing to expert, surfing in playa Sayulita alone is enough of a reason to visit Sayulita.
2. Diverse, Cheap, & Local Food
After you've worked up an appetite paddling past the break to catch the waves, you'll be looking for a bite to eat in this quaint little town. If you're surfing by the Sayulita main beach, or relaxing under beach umbrellas, you'll be literal footsteps away from Sayulita town too! One of the draws of this little magic town is its small size; most places are within walking distance of one another.
If you've managed to make it past the beach vendors on your way back from the Sayulita main beach, you'll be welcomed with a host of amazing options. There is a high concentration of foreign, particularly Italian food, in the downtown area, where you're going to find some of the more expensive, but also more established restaurants. Fear not though, just by walking a few minutes, you can often find similar quality at a much lower cost without leaving the town of Sayulita.
In addition to fine and local dining, Sayulita Mexico is also home to its fair share of coffee shops, smoothie bars, and street food stalls. Though for much of the street food, you'll have to wait until the Sayulita Nightlife comes out.
3. Sayulita Shopping
Shopping in Sayulita is an absolute treat! There are multiple areas to shop, and each with their own unique twist. The only things you sometimes can't find, are basic living essentials! It's not uncommon for locals to make trips to Puerto Vallarta on occasion for more rare supplies. If you're just in town from the Puerto Vallarta Airport for a few days, shopping is definitely one of the best things to do in Sayulita.
The main square offers some of the classic vendors along with a mix of restaurants and other shops. If you make your way to the main beach, this small town has fantastic shopping any route you take! If you're skipping on the beach vendors and surf shops, you can take a right and head north to either the hippie market along a long dirt road with street vendors lining either side. Here you can see one of the two classic spots for photos under a canopy of colorful flags all the while enjoying some of the local and organic goods at the hippie market.
A quick and quaint shopping excursion from Puerto Vallarta is more than ample reason to head farther up the Pacific Coast to Sayulita Mexico.
4. Hiking Around Sayulita Mexico
There is certainly no shortage of activities to encourage you to visit Sayulita. And while it's up against some strong competition, we believe it is a no-brainer for one of the best things to do in Sayulita.
The small town nature of Sayulita encourages people to walk rather than drive around the town. If you're not done walking and have energy for a hike or walk, there are a few great spots nearby to hike, many with a nice payoff at the end of a hidden beach or a beautiful view of the pacific ocean. You can walk straight north starting at Sayulita's main beach and eventually encounter a rock formation with a path to hike alongside. As you're going over it you'll get multiple views of the beautiful beaches of both north beach and sayulita beach to the South. Absolutely beautiful to see such a long strip of the Pacific coast.
For a bit more of an "off the beaten path" hike, you can head the opposite direction over the hill by town and find your way to the secluded beach called Carricitos beach. This hidden beach is harder to get to, but you're rewarded with a break from the crowds that are found on the Sayulita main beach.
Last but not least, there is the classic monkey mountain hike. This hike requires a bit more planning than the ones directly adjacent to the Sayulita town. Monkey Mountain, while it isn't an official national park, it is officially a tough hike! A 5-mile(8km) total out and back with some moderate elevation gain, it can certainly be a little difficult. Depending on the time of year you visit, you may be adding some heat and extreme humitidy to the mix too! Our top of the Sayulita travel tips for doing Monkey mountain is to bring a lot of water, some good shoes, and consider getting a guide if you're afraid of Monkeys or dogs. Once you make it to the peek though you'll again be rewarded with stunning views of the Pacific ocean, Punta de Mita, and Sayulita Beach, and of course, a strong sense of accomplishment.
5. Get in Touch with Yourself
Whether you're escaping the hustle and bustle of Mexico City or on an extended vacation from the United States, this beach town in the Riviera Nayarit provides an amazing spot to get in touch with yourself. While Puerto Vallarta has its fair share of resorts and shopping centers, Sayulita Mexico is the perfect spot for a yoga, surfing, or wellness retreat to relax and ground, yourself.
There are a few great local, luxury, and new organizations which do yoga retreats and classes which we encourage spacing out between trips to playa Sayulita, watching sunsets, and drinking smoothies. You can find a yoga class or retreat for beginners and experts alike and can choose to either push you physically or relax and destress you, whatever you need.
If your definition of disconnecting involves a bit more activity and adrenaline, Sayulita is a perfect spot for surf lessons and retreats. Playa Sayulita provides consistent waves just steps from any accommodations in Sayulita, and neighboring areas like Playa de Los Muertos, San Pancho(or San Poncho), Punta Mita, will be sure to keep you busy.
6. Sayulita Beach Sunsets
We've saved the vest for last with the inclusion of one of the Sayulita Beaches main attractions: it's stunning sunsets. The sun setting over Pacific Coast as you're sipping a margarita on Playa Sayulita is hands down one of the best things to do in Sayulita. If you're scheduling a day trip from Puerto Vallarta, make sure you make time to enjoy the sunset. And if you're lucky enough to be spending a few days or even a few weeks in town, we encourage you to make a point to see the sunset every single day! Not only has this become somewhat of a community event, but the colours find a way to be new everyday and beauty of it take quite some time get used to. I've never had so much fun doing so little.
The reality is, despite its relative size compared to Puerto Vallarta, it's difficult to narrow the list down to just 6 of the best things to do in Sayulita. From nearby beaches, Play de los Muertos and San Pancho, whale watching, and scuba diving, it's simply too hard.
You could make a solid argument that answering any of the following questions differently than us would have resulted in a very different article. Should Sayulita Hippie Market be its own item? Does La orca de Sayulita deserve its own place on the list? Should secret beach, San Pancho, and the rest of Riviera Nayarit remain unexplored and hidden from tourists? While these things may be up for debate, one thing is not. The best things to do in Sayulita, are also the best things to do in the whole area! With close proximity to San Pancho, Playa Los Muertos, and of course easy access to a day trip to PVR for whale watching, scuba diving, or just groceries, Sayulita Mexico is the ideal spot for your trip.