Are you looking to learn how to surf in Sayulita, Mexico? Look no further! Sayulita is a surfing paradise, with warm waters, consistent waves, and beautiful beaches. It's the perfect place to get started surfing, and our team at Sayulita Surfing Tours is here to help you every step of the way.
A tour we think you'll love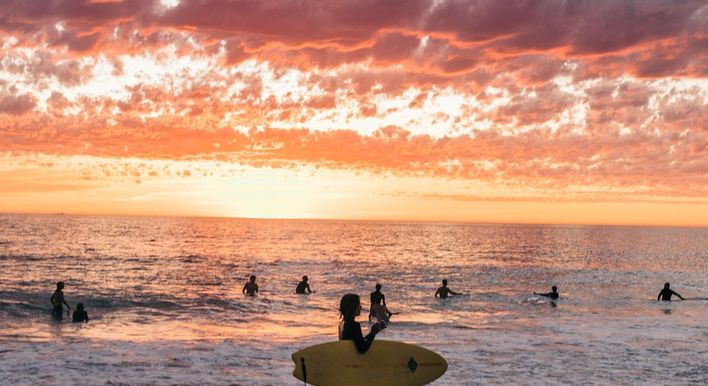 Surf Lesson in Sayulita
From $49
View tour
Getting Started
So, where is the best place to get started surfing in Sayulita? The answer is Playa de los Muertos, also known as Dead Man's Beach. This beautiful beach is located just north of the town center, and it's the perfect spot for beginners to learn how to surf. The waves are gentle and consistent, and the water is warm and crystal-clear. Plus, the beach is lined with palm trees and has a laid-back, tropical vibe.
Instructor
But how do you get started surfing in Sayulita? The first step is to find a reputable and experienced surf instructor. At Sayulita Surfing Tours, we have a team of certified instructors who are passionate about surfing and teaching. Our instructors will provide expert instruction and guidance, so you can learn the basics of surfing safely and quickly.
Equipment
Once you have an instructor, the next step is to rent the right equipment. You'll need a surfboard, a leash, and a wetsuit (if the water is cold). At Sayulita Surfing Tours, we have a wide range of surfboards and wetsuits to suit all levels and sizes. Our friendly staff will help you choose the right equipment and make sure it fits properly.
Once you have your instructor and equipment, it's time to hit the water! Your instructor will take you to Playa de los Muertos and show you how to paddle, pop up, and ride the waves. They will also provide tips and techniques to help you improve your surfing skills and catch more waves.
Surf!
But learning how to surf isn't just about catching waves. It's also about having fun and enjoying the beauty of Sayulita. As you surf, you'll get to experience the stunning views of the town, the mountains, and the ocean. You'll also have the opportunity to see a variety of marine life, including dolphins, turtles, and fish. And when you're not surfing, you can relax on the beach, swim in the warm waters, and soak up the sun.
In conclusion, Sayulita is the perfect place to get started surfing. With its warm waters, consistent waves, and beautiful beaches, it's a surfing paradise. And with our team of experienced instructors and top-quality equipment, Sayulita Surfing Tours is the best choice for learning how to surf in Sayulita. Book your surfing adventure today and experience the thrill of riding the waves in paradise!"