Puerto Vallarta is a tourist hotspot for tourists with a well-connected airport on the West coast of Mexico. This area attracts thousands of tourists every year and is filled with amenities to support the visitors: from shopping and nightlife to picturesque beaches and huge all-inclusive resorts, Puerto Vallarta is a thriving tourist center. Surfing however, is not one of the key attractions of Puerto Vallarta. Thankfully, for the surf enthusiasts out there, Puerto Vallarta is in close driving distance from a plethora of viable surf spots. Below are some of the many locations which can offer Puerto Vallarta visitors fantastic surfing options, all closeby! Although there are many surf retreats and camps in the area, most of these locations are close enough to support a day trip surf session, and to have you back in at your resort by dinner time. Let's jump in!
Surfing in Punta Mita
A tour we think you'll love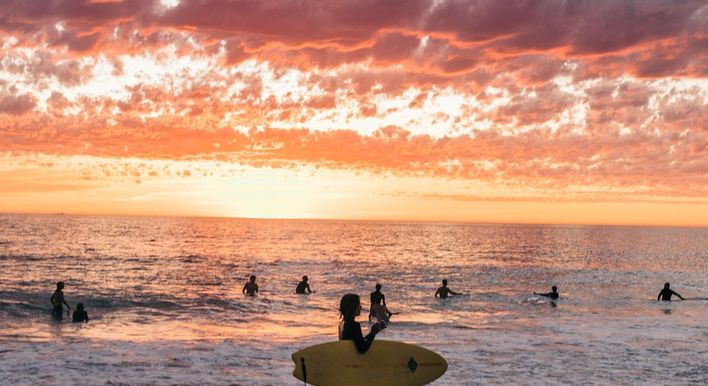 Surf Lesson in Sayulita
From $49
View tour
In the summertime, Punta Mita's surf spots will see bigger swells than you would experience in winter. But the waves are still fun and rippable, especially for beginners.
Veneros is a shortboard mecca with quick takeoffs and rippable right- and left-handers. This is a point break that works best on southerly swells with an offshore breeze.
Punta Mita is approximately 42 kilometers (about 26 miles) from Puerto Vallarta by road, which typically takes around an hour's drive, depending on traffic conditions. Given this close proximity, many travelers and locals alike often undertake day trips between the two destinations. If you're interested in surfing, a day trip to Punta Mita from Puerto Vallarta is entirely feasible. You could easily leave in the morning, enjoy several hours of surfing in Punta Mita's well-known surf spots, and return to Puerto Vallarta by evening. Just be sure to account for any additional time you might need for renting equipment or taking surf lessons if you're a beginner.

Punta Mita
Punta Mita is a local area that is close enough to Puerto Vallarta for a day trip to surf. It is a coastal community surrounded by nine and a half miles of Pacific Ocean beaches and coves including Litibu Bay. It is also home to a variety of luxury resorts and upscale restaurants.
Surfers can find waves for all skill levels in this beautiful region. Beginners can learn to surf at Playa Careyeros, Stinky's and La Lancha. This area is famous for its slow peeling waves that make it perfect for beginner and intermediate surfers. The area has an abundance of excellent surf instructors. It is best to surf in the summer when a big south swell hits the coast of Mexico.
The beach at La Lancha is a local favorite and has been surfed by tons of locals over the years. It is a mellow beach break with peaks up and down the beach. It is a good choice for beginners or families. The bottom is a mixture of sand and reef.
The town of Punta Mita has a classy downtown where you can window shop in local boutiques and go to upscale restaurants. It is also a great place to take in a whale watching tour, as this is a popular attraction in Banderas Bay. Each year about 18,000 humpback whales migrate from the north to Banderas Bay to breed. The peak season is usually from mid-December to late January.

Sayulita
Sayulita is a local area that is close enough to puerto vallarta for a day trip to surf. Its small and traditional grid-style downtown is a feast for the eyes, while the beach is a surfer's dream.
This is a great area for beginners to learn how to surf, but it's also perfect for advanced surfers who want to get some practice in. This is because the waves are consistent, and they're usually smaller than those at other surf spots.
If you're interested in learning to surf, there are plenty of people who offer lessons in Sayulita. Typically, classes are 1.5-2.5 hours long and cost $50-60. If you're an experienced surfer, however, you may find the waves in Sayulita a bit too small for you, depending on when you join. Often, the best waves are in specific seasons, or earlier in the emorning.
You can rent a board and wetsuits at one of the many surf shops in Sayulita. Just be sure to book a lesson in advance so that you have a good time and don't get too bored.
If you're a hiking enthusiast, you can take a day trip to Monkey Mountain, which is a moderate-to-hard hike that will provide some spectacular views of the surrounding nature. You'll also have the opportunity to see some amazing wildlife, such as birds, monkeys, and maybe even a sloth. Just make sure to bring water and some food, as well as hiking boots and sun protection.
Sayulita is approximately 41 kilometers (around 25 miles) north of Puerto Vallarta by road. The journey typically takes a bit more than an hour by car, depending on traffic conditions.
Sayulita is a famous surf town known for its laid-back vibe, artistic community, and consistent waves that are great for both beginners and seasoned surfers. Given its close proximity to Puerto Vallarta, many travelers indeed undertake day trips to Sayulita to catch some waves. It's perfectly feasible to head out in the morning, spend the day surfing and exploring the town, and then return to Puerto Vallarta in the evening. Like Punta Mita, Sayulita also offers surf equipment rentals and lessons, making it convenient for those who aren't traveling with their own gear or who want to learn.
La Lancha
Located north of Banderas Bay in Punta Mita, La Lancha is a local area that's a hot spot for surfers and non-surfers alike. This pristine beach is easy to find and a great place to commune with Mother Nature! The easiest way to get here is to take the Punta de Mita exit off the highway and drive north. After you pass the Veneros Resort and Palladium Resort there is a Pemex gas station on your right and a makeshift parking lot that you can park in. The trail to the beach is directly in front of you and takes about a ten to fifteen minute walk.
The wave at La Lancha is a fun break for beginners to learn how to surf. The waves are generally small and gentle and it's a great place to practice popping up on your board. It's also where many of the local schools will take their new surfers for lessons.
The best time to score a good wave at this location is during winter. This is when swells from the northern hemisphere hit Banderas Bay. Then places like Sayulita, Quimixto and the tip of Punta Mita really come to life on a north swell.
La Lancha Beach is located near Punta Mita, just north of Puerto Vallarta, on the Pacific coast of Mexico. The distance by road between Puerto Vallarta and La Lancha Beach is roughly 25 kilometers (about 15.5 miles). The drive typically takes around 30 minutes to an hour, depending on traffic conditions.
Given its close proximity, La Lancha is a popular day-trip destination for surfers staying in Puerto Vallarta. The beach is renowned for its consistent waves and is suitable for both beginner and experienced surfers. You can definitely head out in the morning, enjoy a day of surfing at La Lancha, and return to Puerto Vallarta by evening. If you don't have your own equipment, there are also nearby places where you can rent surfboards and take lessons if needed.