As straightforward as a quick list of the best surf camps in Mexico could be, the reality is that people looking to do a Mexico surf camp are looking for a variety of things! So instead of doing a straightforward list, we'll instead do a favorite, a general list for surf camps, and then separate lists for the best surf camp locations themselves.
A tour we think you'll love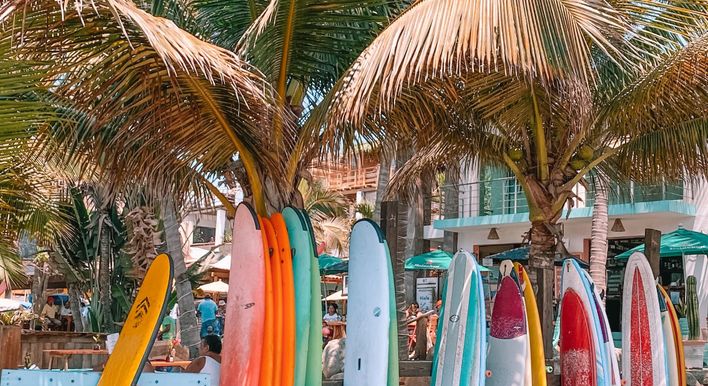 Board Rental
From $25
View tour
Let's dive in.
Best Mexico Surf Camp
Though Mexico is filled with dozens of great surf camp locations and filled with hundreds of great surf spots, we had to narrow it down to one, and we're going with this 3 Week Surf and Stay in Puerto Escondido, Oaxaca. Puerto Escondido has some of the most consistent waves with surf breaks for beginner and intermediate surfers alike. This spot on the Pacific coast has some of the best surf camps in Mexico and with this three-week surf camp, you'll have plenty of time for catching waves and enjoying Puerto Escondido.
Though we would make a strong argument that Sayulita has the best surf camps, we acknowledge that some advanced surfers are looking for the more consistently advanced surf sessions that Puerto Escondido offers.
Surf Camps
Wild Mex Surf Camp located in sunny Sayulita is top on our list! This Mexico surf camp offers much for beginner and intermediate surfers alike. This quaint surf town on the pacific ocean offers some of the best mexico surf camps while providing an amazing on shore experience. Wild Mex has been offering surf camps for some time, with years of raving customers, enjoy surfing directly in Sayulita, or take a surf trip to one of the many neighboring towns with other great surf spots.
Punta Mita has an even more low key, budget friendly, and vibe. A popular location for surf trips coming from Sayulita, Punta Mita offers great surf breaks for beginner and experienced surfers. In this cozy town you can get a package with private rooms, surf lessons daily, surf theory and other activities weekly, and more for less than $100 a day! This surf school hotspot is perfect for your mexico surf trip.
Surf Locations
1. Sayulita
If you're looking to take it easy, then Sayulita is the place for your destination. The town offers three breaks that offer a variety of styles and sizes so even if one doesn't suit what kind waves are calling out from deep within yourself surfwise – there's another waiting just around this corner!
Why go anywhere else? Sayulita, Mexico has it all. There are plenty of great hotels and restaurants to satisfy your appetite whether you're looking for luxury or just good food with an authentic flavor! The town itself offers not only beautiful scenery but also Pacific Mexicana character that will make any vacationer happy – we guarantee this small paradise won't disappoint.
2. Puerto Escondido
Puerto Escondido, a small coastal town in Mexico with an amazing climate and surf spots like Playa Zicatela that produce some of the biggest waves you'll ever see.
From the barrels on Playa Zicatela to the cove of Carrizalillo, Puerto Escondido has surf camps for all levels of surfers.
Besides our winner of best surf camp in Mexico, we'd also shout out this budget-friendly surf camp in Puerto Escondido. Not everyone can commit to multiple weeks of vacation time and thousands of dollars in surf lessons and surf sessions, and this mexico surf camp has a great surf camp for just those people!